LITHOPONE is an excellent raw material for white colors, paints and enamels, giving them a very high covering power.
Lithopone is composed of a mixture of Zinc Sulfide (ZnS) and Barium Sulphate (BaSO4) it is a pigment widely used for low gloss paints and as a pigment for paints, plastics, paper and rubber.
It can be used for abrasion-sensitive coating systems, automotive polyester compounds and in U.V. for fast and complete curing of thick paint films.
In the paper industry, it can be used in combination with optical brighteners to produce extremely bright papers.
LITHOPONE RED SEAL
Market and Applications
Some applications of the Lithopone distributed by L'Aprochimide.
Contact us for informations
Lithopone distribution by L'Aprochimide
Why choose L'Aprochimide for the supply of Lithopone.
CONTACT US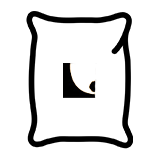 Bags
Available in 25 kg bags
TARIFFA DOGANALE
32.06.4200